Stocks down but not out (APX, TWE) + International Alerts **BABA US, MFST US, MC FP, UBS US, SH US, GOLD US, IEM, TBF US, DBA US, GDX US**

WHAT MATTERED TODAY
Another decent sell-off in stocks today, although the overnight lead was worse that we experienced by the close. The ASX opened firmly on the backfoot following a big ~1000pt decline by the Dow overnight, ~400pts of which we saw during our session yesterday however another 600pts that weren't accounted for and that hit our market early on, the ASX 200 hit a 6800 low around 10.30am / down -178pts before buyers stepped up to the plate. Most stocks opened on their low, and closed nearer their highs as US Futures ticked higher during our time zone. While Asian markets were hit from the carnage overnight, Japan down ~3% the main victim, stocks in China and Hong Kong held up reasonably well, down 1.4% and 0.2% respectively. Overall a weak session, but it wasn't as weak as it could have been.
Reporting took a backseat today, however artificial intelligence business Appen (APX) was out with results that impressed the market (more on this below), the pick of the stocks to buy on open this morning opening at $22.10 before closing at $25.40. While that was the most obvious example, there was strong buying amongst the financials today, Macquarie (MQG) which we bought this morning ended the session down just -0.65% after being down more that 3% at the worst, NAB had a similar trend, so did Westpac to a lesser degree.
At the sector level, the IT stocks did best closing down just -0.27%, a heap of buying into the lows while the communication sector was weighed by a ~3% decline in Telstra. Resources a mixed bag.
Overall, the ASX 200 lost -111pts / -1.60% today to close at 6866. Dow Futures are trading up +215pts/+0.76%
Reporting schedule available here: CLICK HERE
ASX 200 Chart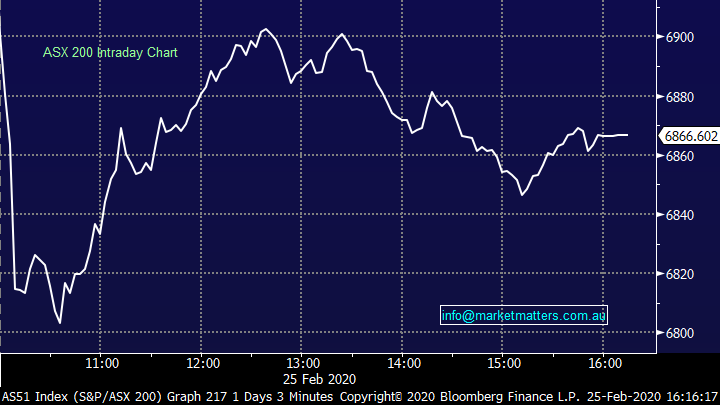 ASX 200 Chart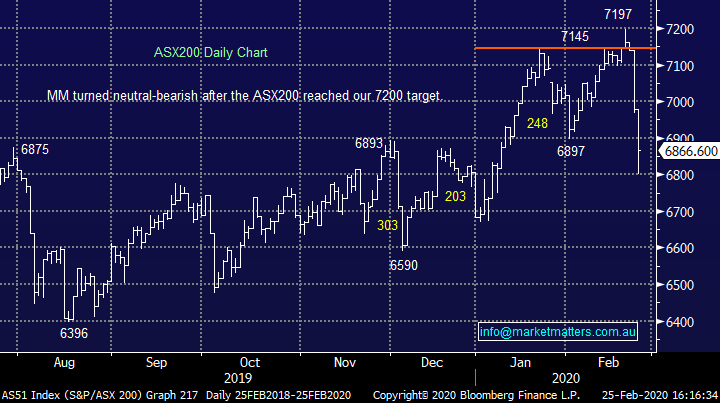 CATCHING MY EYE
Appen (APX) +6.5%: big turnaround from an early sell off, money eventually found its way towards Appen which reported well pre-market. It seemed the stock was caught up in the broad selling before getting some credit for what was a clear beat. Underlying profit was up over 30% on the year while EBITDA came in ahead of guidance at $101m. While margins were squeezed in the first half, they rebounded into the second with investment skewed to the early part of the year. Key to the turnaround in the share price, which was down more than 10% at one stage, was comments from the CEO saying that the corona virus impact would be "negligible" given the early stages of investment the company had made in China, while still expecting good growth for years to come as the Chinese AI market grows to rival that in the US. A good update
Treasury Wine Estates (TWE) -3.96%: downgraded guidance today against the coronavirus backdrop saying it no longer believes it will achieve prior EBITS growth guidance of 5-10%. The company noted staff had not yet returned to offices in line with government controls and while they do have some options to reallocate stock, there has been significant adverse impacts on sales of luxury wines in the region. The company did not give a new range for EBITS growth. All too hard for TWE at the moment.
Broker Moves:
Reliance Worldwide Raised to Buy at UBS; PT A$4.20

Reliance Worldwide Raised to Buy at Morningstar

Reliance Worldwide Cut to Neutral at Credit Suisse; PT A$3.75

Avita Medical Raised to Buy at Morningstar

Bluescope Raised to Neutral at UBS; PT A$13

nib Raised to Buy at Citi; PT A$5.60

Livetiles Rated New Outperform at Oppenheimer

Select Harvests Cut to Underweight at Wilsons; PT A$6.33

Mayne Pharma Raised to Market-Weight at Wilsons

Fletcher Building Raised to Buy at Morningstar

Regis Resources Cut to Sell at Morningstar

Spark Infra Raised to Buy at Morningstar

Brambles Raised to Hold at Morningstar

Ansell Raised to Buy at Morningstar

McMillan Shakespeare Raised to Buy at Morningstar

Oil Search Raised to Buy at Morningstar

Vocus Raised to Hold at Morningstar

Computershare Raised to Buy at Morningstar

Viva Energy Group Raised to Buy at Goldman; PT A$2.20

Steel & Tube Raised to Buy at Deutsche Bank; PT NZ$1.07

Cooper Energy Raised to Overweight at JPMorgan

Hotel Property Raised to Neutral at Goldman; PT A$3.07
OUR CALLS
We were active across portfolios today:
Growth Portfolio: We sold Evolution Mining (EVN), bought Macquarie Group (MQG) and added to BPT, NAB & WBC
Income Portfolio: We sold CBAPF, bought Smart Group (SIQ) and added to BHP & RIO
**NEW International Portfolio Alerts**
We're stepping up activity across the international portfolios today / tonight with the below amendments. The international equities portfolio is closing out its short S&P 500 position along with its long position in Barrick Gold for a good profit, while also going long a number of stocks. The ETF Portfolio is also closing its short S&P position and Gold ETF position, again for a good profit while also going long US Treasury yields, global agriculture while adding to our exposure in emerging markets.
International Equities Portfolio: Buy BABA, MSFT, MC & UBS, sell SH US & GOLD US

We are adding to our existing position in Alibaba (BABA), taking our total position to 8%. Add 2% more to BABA
Alibaba (BABA) Chart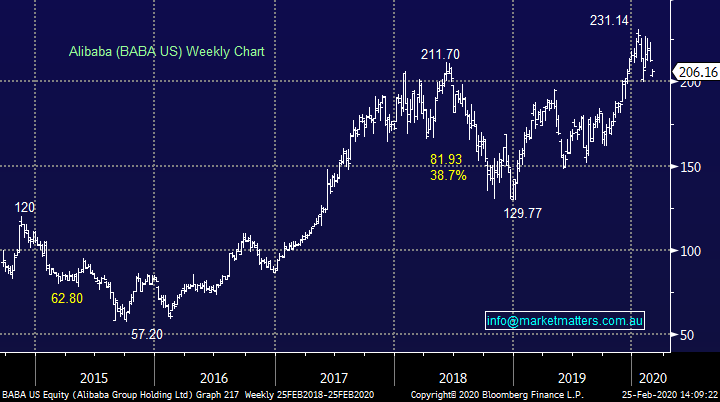 We are taking the opportunity to establish a position in Microsoft into current weakness, starting with a 5% weighting. Buy MSFT US with a 5% initial weighting
Microsoft (MFST) Chart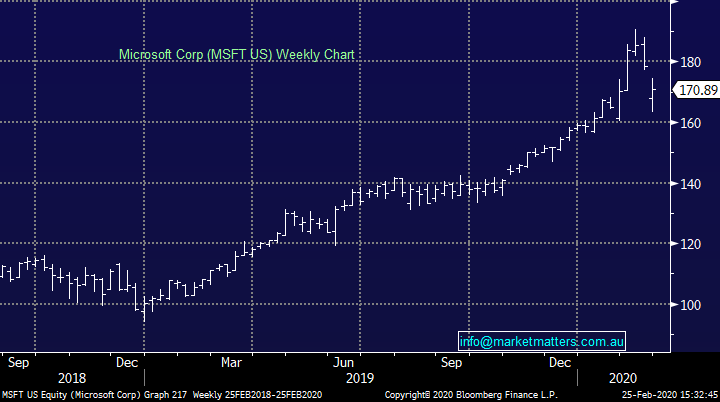 We are also buying LVMH Moet Hennessy, starting with a 4% weighting. Buy MC FP with a 4% initial weighting
LVMH Moet Hennessy (MC FP) Chart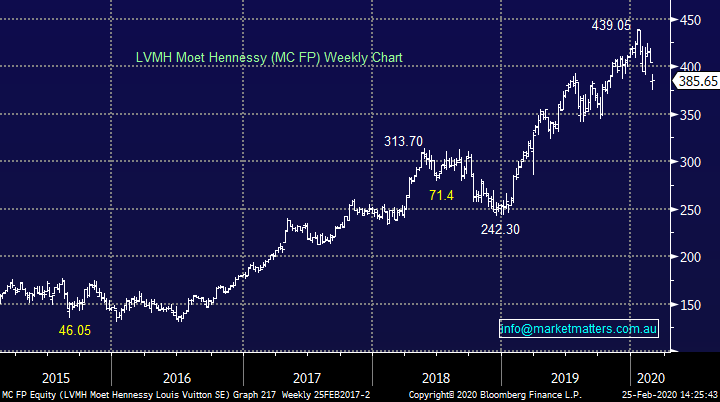 European banks have been under pressure, including UBS. We are using current weakness to buy the stock. Buy UBS US with a 4% initial weighting
UBS Group (UBS) Chart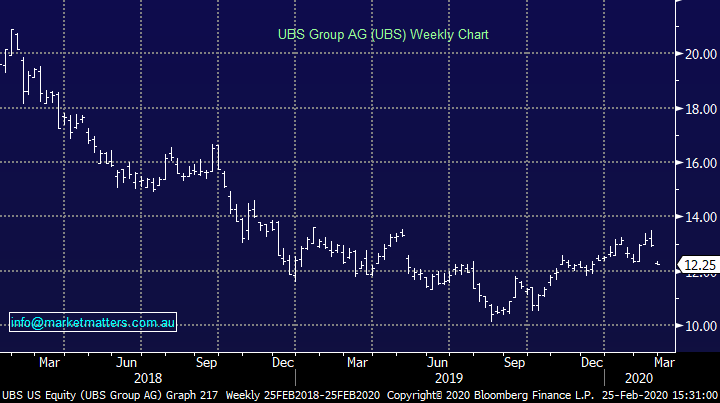 International Equities Portfolio: Sell SH US and GOLD US

We are selling out of our short position on the US market. Sell SH US.
ProShares Short (SH US) Chart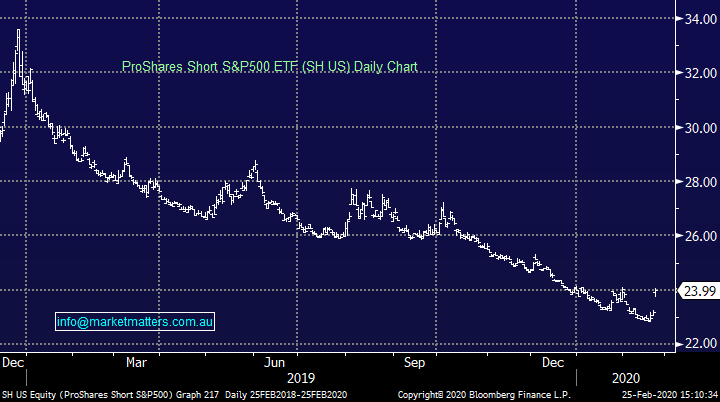 We are also taking profit on Barrick Gold into recent strength. Sell GOLD US
Barrick Gold (GOLD) Chart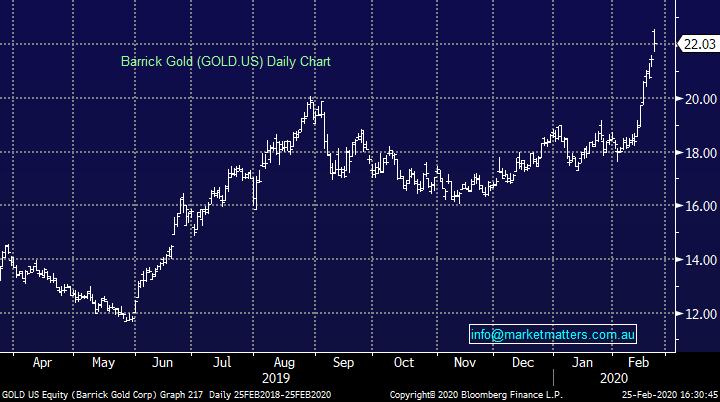 Global ETF Portfolio Alerts: Buy IEM, TBF, DBA, Sell GDX, SH US

We are increasing our long posiiton in the emerging markets ETF by 2%. Add 2% more into IEM
iShares Emerging Markets ETF Chart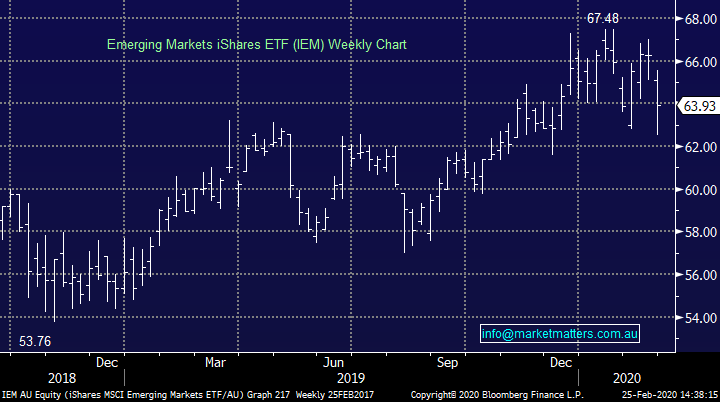 This security provides an exposure to rising interest rates. We believe treasury yields have found / are near a low and are playing that view through the TBF US. Buy TBF US with a 10% weighting
Proshares Short 20+ Year Treasury ETF Chart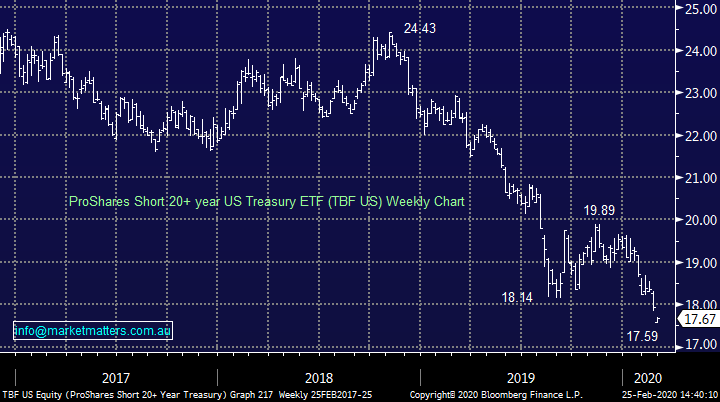 We are buying into the global agricultural sector through the Invesco ETF. Buy DBA US with a 6% weighting
Invesco Agricultural Fund (DBA US) Chart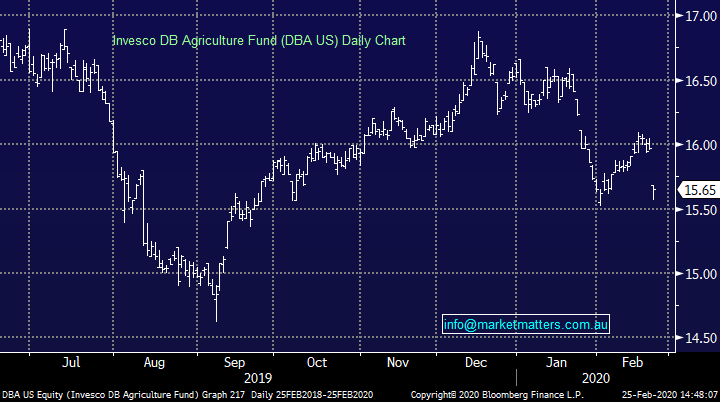 Global ETF Portfolio Alerts: Sell GDX, SH US

We are cutting our Gold exposure, taking a nice profit along the way. Sell GDX
VanEck Vectors Gold miners ETF (GDX) Chart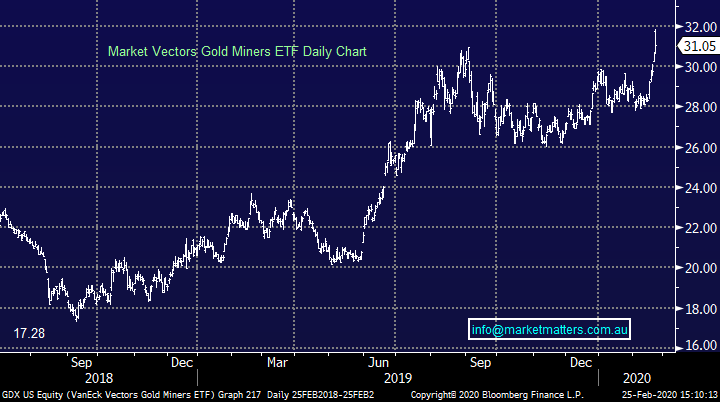 We are selling out of our short position on the US market. Sell SH US.
ProShares Short (SH US) Chart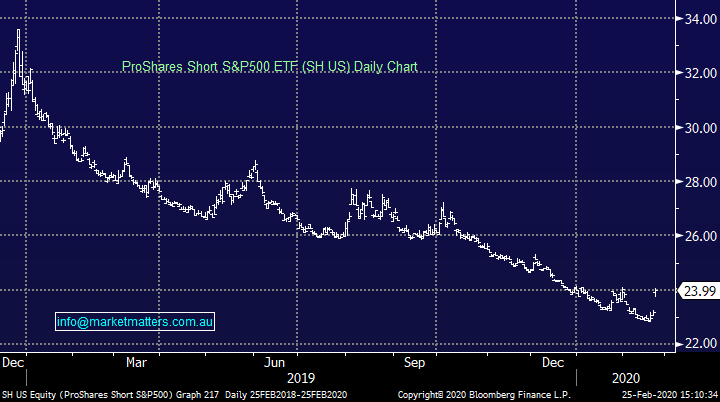 Major Movers Today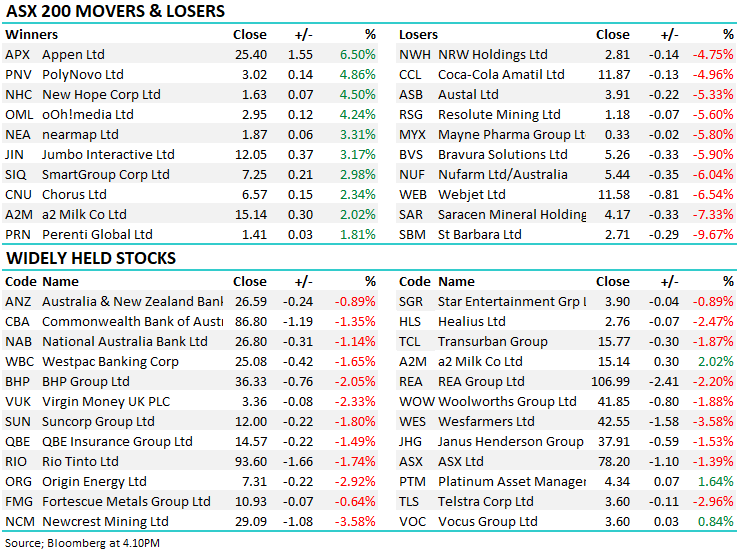 Have a great night
James & the Market Matters Team
Disclosure
Market Matters may hold stocks mentioned in this report. Subscribers can view a full list of holdings on the website by clicking here. Positions are updated each Friday, or after the session when positions are traded.
Disclaimer
All figures contained from sources believed to be accurate. All prices stated are based on the last close price at the time of writing unless otherwise noted. Market Matters does not make any representation of warranty as to the accuracy of the figures or prices and disclaims any liability resulting from any inaccuracy.
Reports and other documents published on this website and email ('Reports') are authored by Market Matters and the reports represent the views of Market Matters. The Market Matters Report is based on technical analysis of companies, commodities and the market in general. Technical analysis focuses on interpreting charts and other data to determine what the market sentiment about a particular financial product is, or will be. Unlike fundamental analysis, it does not involve a detailed review of the company's financial position.
The Reports contain general, as opposed to personal, advice. That means they are prepared for multiple distributions without consideration of your investment objectives, financial situation and needs ('Personal Circumstances'). Accordingly, any advice given is not a recommendation that a particular course of action is suitable for you and the advice is therefore not to be acted on as investment advice. You must assess whether or not any advice is appropriate for your Personal Circumstances before making any investment decisions. You can either make this assessment yourself, or if you require a personal recommendation, you can seek the assistance of a financial advisor. Market Matters or its author(s) accepts no responsibility for any losses or damages resulting from decisions made from or because of information within this publication. Investing and trading in financial products are always risky, so you should do your own research before buying or selling a financial product.
The Reports are published by Market Matters in good faith based on the facts known to it at the time of their preparation and do not purport to contain all relevant information with respect to the financial products to which they relate. Although the Reports are based on information obtained from sources believed to be reliable, Market Matters does not make any representation or warranty that they are accurate, complete or up to date and Market Matters accepts no obligation to correct or update the information or opinions in the Reports. Market Matters may publish content sourced from external content providers.
If you rely on a Report, you do so at your own risk. Past performance is not an indication of future performance. Any projections are estimates only and may not be realised in the future. Except to the extent that liability under any law cannot be excluded, Market Matters disclaims liability for all loss or damage arising as a result of any opinion, advice, recommendation, representation or information expressly or impliedly published in or in relation to this report notwithstanding any error or omission including negligence.