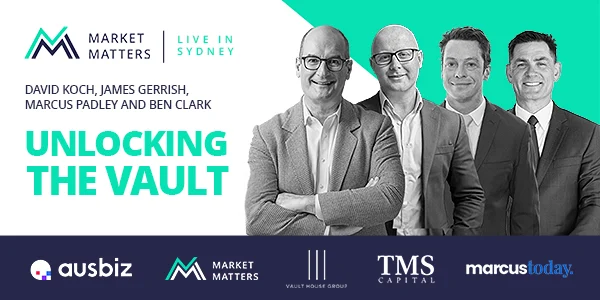 Australia's premier market analysts and stock commentators are coming together for an intimate, exclusive, unmissable event.
Hosted by David Koch, and featuring James Gerrish, Marcus Padley and Ben Clark — join us in Sydney as we unlock the best stocks, markets and positions heading into Christmas.
Unlocking the Vault: Koch, Gerrish, Padley & Clark's Portfolio Picks for 24  
Where: Vault House, 185 Clarence Street, Sydney.
When: Tuesday 28th November, 6pm – 9pm AEST
Cost: $95.00 – Free to Market Matters members
As a Market Matters member, you can attend this intimate and exclusive face-to-face event for free! Complimentary drinks will also be provided. Please note, tickets are strictly limited so make sure you register early to avoid disappointment. 
The Panel
David Koch (host): one of Australia's foremost business and finance commentators, ausbiz co-founder, tv guru and start-up investor
James Gerrish: Lead Portfolio Manager with 20 years of experience, and primary contributor to Market Matters
Marcus Padley: Founder and Author of the stock market newsletter 'Marcus Today' which looks after thousands of self-directed investors. Marcus has a unique style, developed over forty years in the financial markets
Ben Clark: Portfolio Manager, TMS Capital High Conviction Fund, 20 years' experience in markets with a proven track record
The Topics
Interest rates have been the main game in 2023, but what now? Does the fight against inflation continue unabated, or has the heavy lifting been done?
What will be the key macroeconomic drivers for markets in 2024?
Stocks, bonds or cash – what mixes are the panel considering as we approach a new year?
Investment ideas the panel likes here and now and what they are doing accordingly in the market moving forward.
We're delighted to be able to put on such a prestigious event for members. It's rare to hear from so many distinguished market voices and feels particularly apt with market uncertainty so high. As a group, we look forward to sharing our expertise and thoughts with you
Link to media