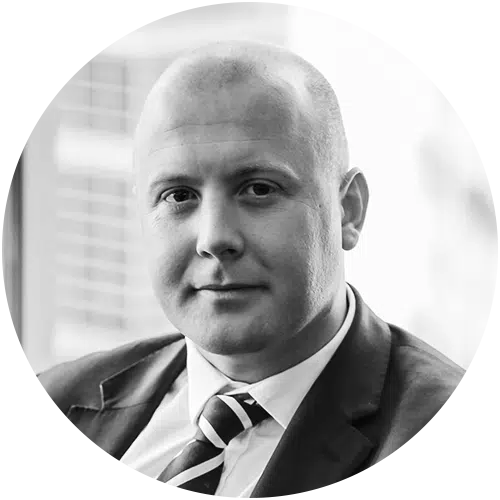 James Gerrish

Portfolio Manager
James is Market Matters' Primary Author and Portfolio Manager at Shaw and Partners, one of Australia's leading financial services firms with approximately $25 billion of assets under management.
Bespoke Portfolio Management
James & his team have been managing Australian and International Equity and Fixed Income portfolios for Australian investors for over 15 years. James's clients range from Individual's, Corporates and Self Managed Super Funds, to Not-For-Profits and great Australian Charities.
Through Shaw and Partners, James offers professional management of direct investments, being Australian and International Shares & Fixed Income.
If you're sick of paying layered fees for inactive managed funds, why not consider a directly managed solution, tailored to your individual circumstances, that includes comprehensive reporting, active management, and real accountability.
Combined with a complimentary subscription to Market Matters, you stay informed of our opinions, you understand the rationale for our actions, whilst having the knowledge that your portfolio is being actively managed by James & his team.
"I really appreciate your efforts in managing my portfolio. Your market intel, genuine advice and MM commentary is exceptional and I look forward to 2021 with confidence and wish you both an enjoyable and prosperous new year". David Hawkins
Backed by an experienced team
Shaw and Partners along with UBS Research provide a deep level of research and ideas, analyst insights and deal flow to ensure portfolio's are optimised for performance.
James and his team draw on this research while overlaying a level of pragmatism to ensure clients are at the center of everything they do.
While James heads the investment function, a team of administrators works behind the scenes to ensure that reporting and administration is as seamless as possible, providing clients with clear and transparent insight into their portfolio around the clock.
Get In Touch
James & his team can help take the hassle out of managing your investments, with a focus squarely on risk adjusted returns.
"I have dealt with James and his team for nearly 10 years and always find him knowledgeable and his advice well balanced. His daily notes on Market Matters give a great ongoing commentary and insight on the market"  Lindsay C
James is a specialist manager of listed assets, not a holistic wealth manager or financial planner and this focus allows him to deliver a highly effective, targeted experience to investors.
Management includes full performance reporting and reconciliation, regular portfolio updates, 24 hour access to portfolio holdings, and direct access to your manager.
For more information or a discussion with James about your individual circumstances, call (02) 9238 1561
Or fill in this form