Resource stocks regain their mojo

WHAT MATTERED TODAY
A solid session to start the week with the ASX defying the negativity and continuing to move higher, today it was material stocks that built on last weeks gains as better economic data from China + strength in both Iron Ore and Gold underpinned the sector, Fortescue Metals (FMG) trading up to an all-time high today above $13 while RIO also found some buyers adding nearly 6%. Energy played a respectable supporting role today as Crude traded above $30 for the first-time in 2 months, the oil coys doing well led by STO +5.87%. Auckland International Airport (AIA) provided an insight into traffic numbers today, in April passenger numbers down around 97%, not a surprise but a big number none-the-less. Sydney Airports (SYD) out Wednesday with their monthly stats.
US Futures opened higher this morning and that underpinned strength for the ASX early, however the gains were added to throughout our session, Asian markets also trended up.
Overall, a decent start to the week with some sectors that we like / and are positioned within doing well, although the banks remained friendless.
Overall, the ASX 200 added +55pts / 1.03% today to close at 5460 - Dow Futures are trading up +268pts/+1.14%.
ASX 200 Chart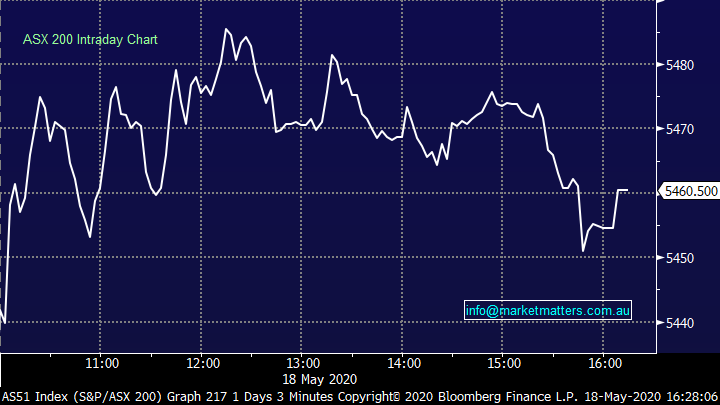 ASX 200 Chart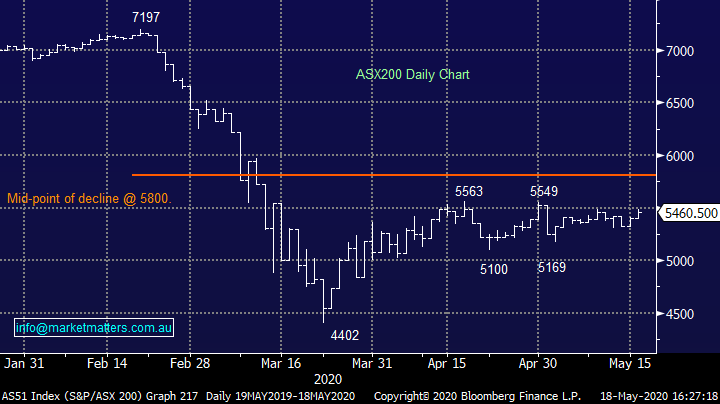 CATCHING MY EYE:
Direct from the Desk: A wrap up of todays trade

BROKER MOVES:
GrainCorp Raised to Market-Weight at Wilsons; PT A$3.81

Charter Hall Group Raised to Buy at UBS; PT A$9.80

Woodside Cut to Neutral at Macquarie; PT A$23.50

Breville Cut to Neutral at Macquarie; PT A$20

GrainCorp Cut to Hold at Morningstar

Ansell Cut to Hold at Morningstar

Lynas Rated New Outperform at CLSA; PT A$2.05

Charter Hall Group Raised to Outperform at Credit Suisse

GWA Group Raised to Buy at CCZ Statton Equities Pty Ltd.·
OUR CALLS
Growth Portfolio: We added to our existing position in Xero (XRO) today
Major Mover Today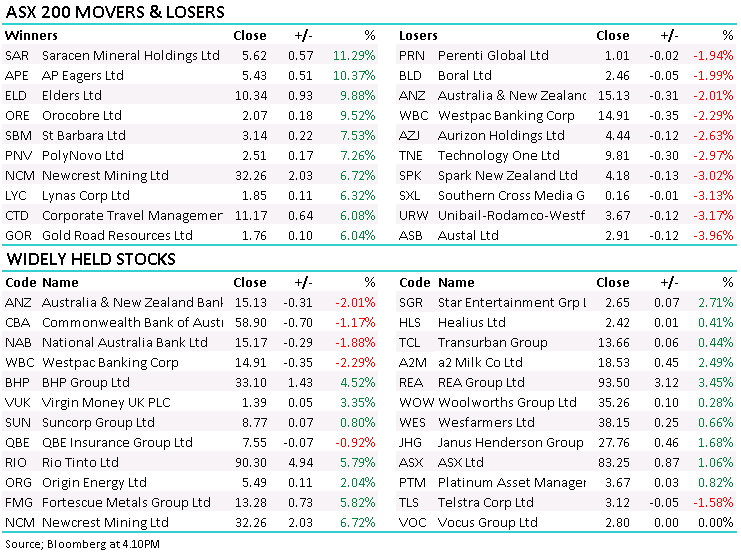 Have a great night
James, Harry & the Market Matters Team
Disclosure
Market Matters may hold stocks mentioned in this report. Subscribers can view a full list of holdings on the website by clicking here. Positions are updated each Friday, or after the session when positions are traded.
Disclaimer
All figures contained from sources believed to be accurate. All prices stated are based on the last close price at the time of writing unless otherwise noted. Market Matters does not make any representation of warranty as to the accuracy of the figures or prices and disclaims any liability resulting from any inaccuracy.
Reports and other documents published on this website and email ('Reports') are authored by Market Matters and the reports represent the views of Market Matters. The Market Matters Report is based on technical analysis of companies, commodities and the market in general. Technical analysis focuses on interpreting charts and other data to determine what the market sentiment about a particular financial product is, or will be. Unlike fundamental analysis, it does not involve a detailed review of the company's financial position.
The Reports contain general, as opposed to personal, advice. That means they are prepared for multiple distributions without consideration of your investment objectives, financial situation and needs ('Personal Circumstances'). Accordingly, any advice given is not a recommendation that a particular course of action is suitable for you and the advice is therefore not to be acted on as investment advice. You must assess whether or not any advice is appropriate for your Personal Circumstances before making any investment decisions. You can either make this assessment yourself, or if you require a personal recommendation, you can seek the assistance of a financial advisor. Market Matters or its author(s) accepts no responsibility for any losses or damages resulting from decisions made from or because of information within this publication. Investing and trading in financial products are always risky, so you should do your own research before buying or selling a financial product.
The Reports are published by Market Matters in good faith based on the facts known to it at the time of their preparation and do not purport to contain all relevant information with respect to the financial products to which they relate. Although the Reports are based on information obtained from sources believed to be reliable, Market Matters does not make any representation or warranty that they are accurate, complete or up to date and Market Matters accepts no obligation to correct or update the information or opinions in the Reports. Market Matters may publish content sourced from external content providers.
If you rely on a Report, you do so at your own risk. Past performance is not an indication of future performance. Any projections are estimates only and may not be realised in the future. Except to the extent that liability under any law cannot be excluded, Market Matters disclaims liability for all loss or damage arising as a result of any opinion, advice, recommendation, representation or information expressly or impliedly published in or in relation to this report notwithstanding any error or omission including negligence.