Pinnacle Investment Management (PNI) investment inflows drives profit growth, shares rally
PNI +12.21%: Released FY22 earnings today were a whisker below consensus expectations at the profit line, printing $76.4m versus $77.4m expected while the 17.5c dividend was a touch above. They talked to a strong 1H in terms of flows and a weak 2H which is understandable, with Funds Under Management (FUM) down overall for the year, the first time since FY12. The fall in FUM came from market weakness and the mix of FUM inflows actually helped margins given a skew towards retail money. Additionally, Pinnacle managed their cost base well, showing flexibility in volatile markets while still driving investment inflows which led to profit growth of 14% in the year despite the fall in FUM. The company still has around $120m of investible dry powder to continue to expand their footprint while the market only had very tepid growth pencilled in for FY23 – so upgrades here are likely.
MM remains long and bullish PNI in the Emerging Companies Portfolio
Add To Hit List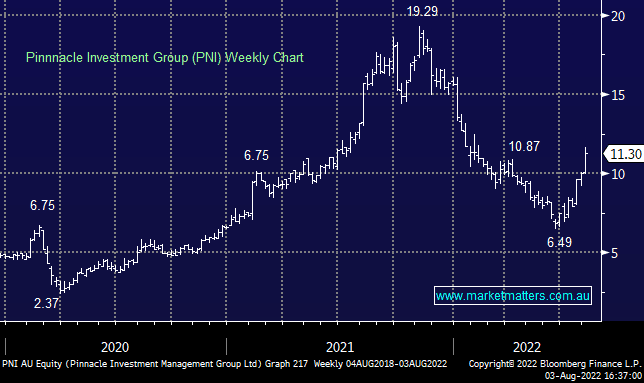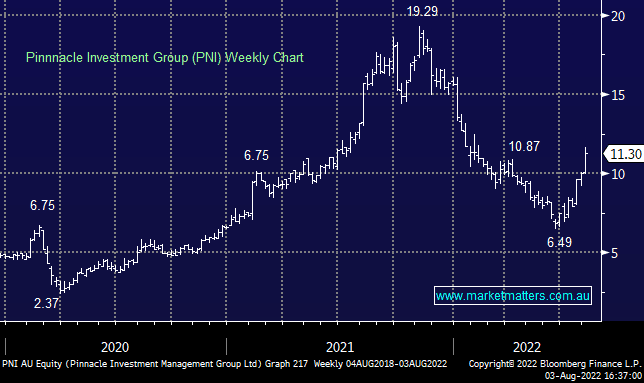 chart
Pinnacle Investment Management (PNI)
Close
chart
Pinnacle Investment Management (PNI)
Wondering what Market Matters are buying and selling today?
Market Matters breaks down the latest financial developments into simple, actionable opinion that our members can rely on. We give our community access to some of the most trusted financial professionals in Australia and crucially, we invest in our own portfolios – putting real money where our mouth is.
Led by James Gerrish, the Market Matters Investment Team has decades of market experience, and every day we'll give you our take on the market. With in-depth market analytics, clear buy, hold and sell actions members can quickly see the stocks we like, the stocks we don't and the history behind every one of our decisions.
See for yourself – take an obligation free 14 day trial of our service – here.