NRW Holdings (NWH) upgrades guidance, shares pop higher as they catch the market by surprise
NWH +10.94%: The Perth-based mining & construction contractor was out with upgraded guidance today, with EBITDA now tipped to be $157m versus the prior guided range of $150-$155m. Revenue guidance remained at $2.4bn implying they've done better in terms of margins. More details to be provided when they report FY22 results on the 18th of August, however, suffice to say, this inexpensive contractor is priced on sub 10x earnings and is performing better than the market had feared.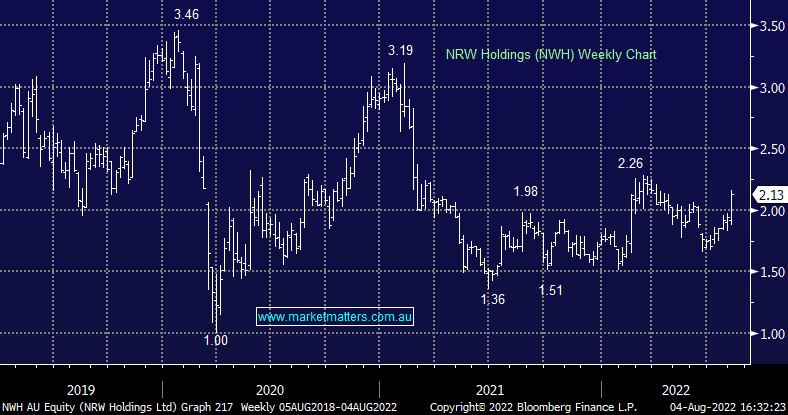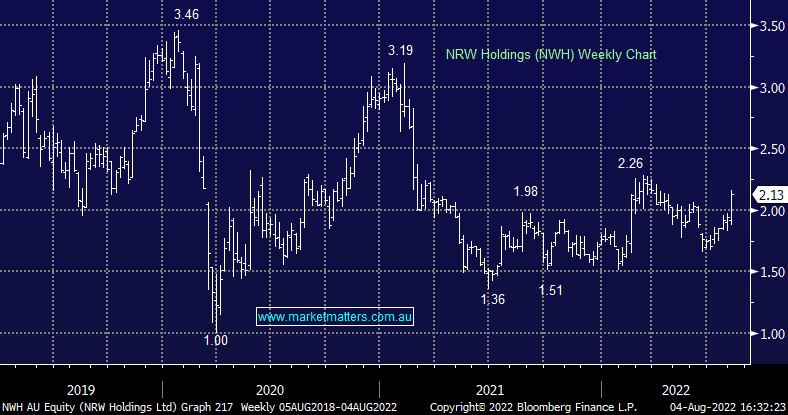 chart
NRW Holdings (NWH)
Close
chart
NRW Holdings (NWH)
Wondering what Market Matters are buying and selling today?
Market Matters breaks down the latest financial developments into simple, actionable opinion that our members can rely on. We give our community access to some of the most trusted financial professionals in Australia and crucially, we invest in our own portfolios – putting real money where our mouth is.
Led by James Gerrish, the Market Matters Investment Team has decades of market experience, and every day we'll give you our take on the market. With in-depth market analytics, clear buy, hold and sell actions members can quickly see the stocks we like, the stocks we don't and the history behind every one of our decisions.
See for yourself – take an obligation free 14 day trial of our service – here.