MP1 has fallen over 70% from its 2021 high managing to underperform all of the mainboard ASX Tech Sector in the process to-date in 2022. MP1 is a global connectivity company essentially facilitating upscaling (and downscaling) of network capacity for corporates, important as we all move more towards the cloud. The business generated $27.9mn in revenue through the 3rd quarter of FY22, up 5% on the previous quarter plus importantly they have almost $90mn of cash on hand, however, the revenue number needs to be held up against the size of the company which is ~$1bn i.e. its valuation is still based heavily on future promises.
The company sold over 1550 new services in the quarter taking the total close to 26,000, the problem with the stock is all about valuation compared to this level of growth.
MM has held MP1 in the past, our more recent sale was about a year ago around ~$15.80, a far cry from the current share price.
While clearly, the trend is down, we do like the company, it's just the valuation that still concerns us plus  we are ideally looking to reduce our tech exposure into strength as opposed to increasing it into weakness.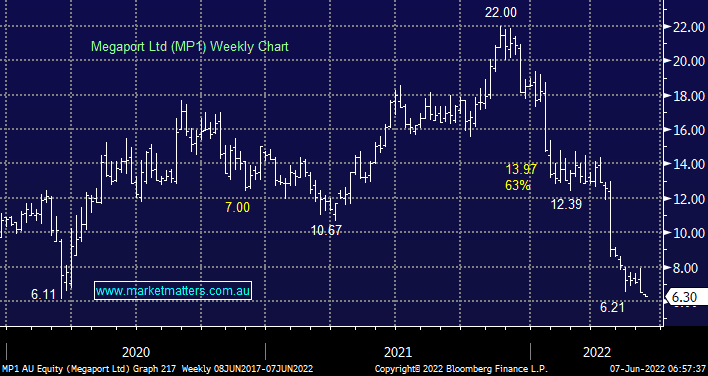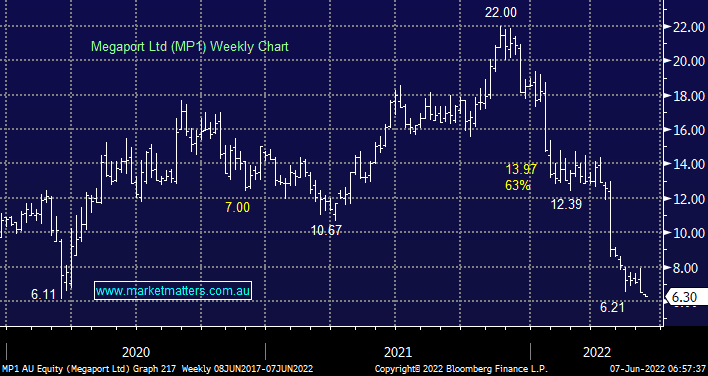 chart
Megaport Ltd (MP1)
Close
chart
Megaport Ltd (MP1)