APX was smacked close to 20% last Friday following an analyst's note out of Macquarie which clearly was on the bearish side of the fence although the stock's performance was not helped by a market in freefall on that particular day:
APX has yet to provide year end guidance which Macq feels could be the precursor to increased downgrade risk for a business who has a disconcerting lack of visibility around earnings  i.e.  it's tough to guess!
Furthermore, Macquarie see a trend emerging of big-tech companies becoming less reliant on 3rd party annotation services as they go directly for crowdsourcing data annotation services  i.e. demand continues to grow but it's not good news if we see the middle man including APX getting cut out.
This potential structural industry shift is clearly a worry for AI data services specialist APX which no longer priced for major growth, trading on an Est P/E for 2021 of 22x.
MM is currently giving APX the benefit of the doubt around $10
Add To Hit List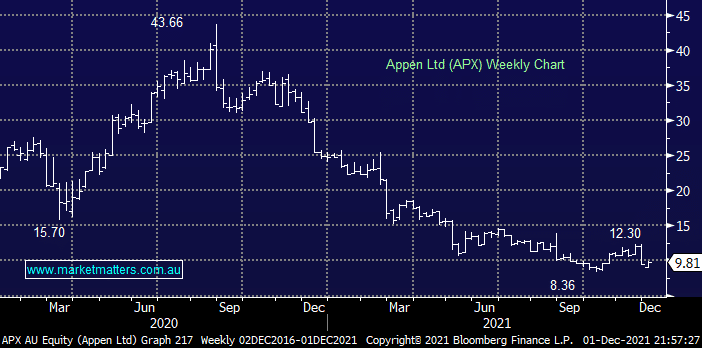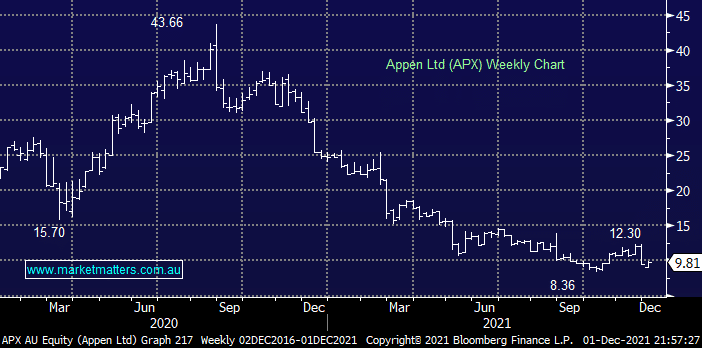 chart
Appen Ltd (APX)
Close
chart
Appen Ltd (APX)