The recent APX saga has been almost as dramatic as the stocks plunge from its 2020 high, a quick recap:
APX closed at $6.30 on the 25th of May, that evening the AFR wrote a well-informed story that a bid was coming.
Before the market opened on the 26th we saw an impressive bid from Canadian tech giant Telus at $9.50 – at a whopping 50% premium to its previous close.
The stock opened at $7.98 on the 26th before closing higher at $8.27, up +31% on the day.
APX delivered an average trading update to the market on the 26th, the bid was subsequently pulled that night with no reason provided.
The stock closed at $6.30 yesterday, unchanged from the 25th !
The company's trading update, in typical fashion for recent years, saw revenue lower than expectations which was poised to flow through into earnings. Telus recently bought AI rival Lionbridge making them an extremely credible buyer, the APX board had engaged with Telus trying to solicit a higher offer, a 50% premium clearly wasn't good enough! On a valuation front Telus paid around 50% more for Lionbridge but the growth stocks were trading on much higher valuations back then, the horse has bolted on that front.
We cannot imagine that Telus doesn't 100% understand the business and it how it was struggling so pulling its bid after another average update doesn't ring true, our best guess is they found the APX board unrealistic and too hard to work with although again that must have been some pretty bad first impressions to walk away from a lot of early work on the suitors part. We can see Telus or somebody else taking another look at APX but they might want deeper value to offset potential risks.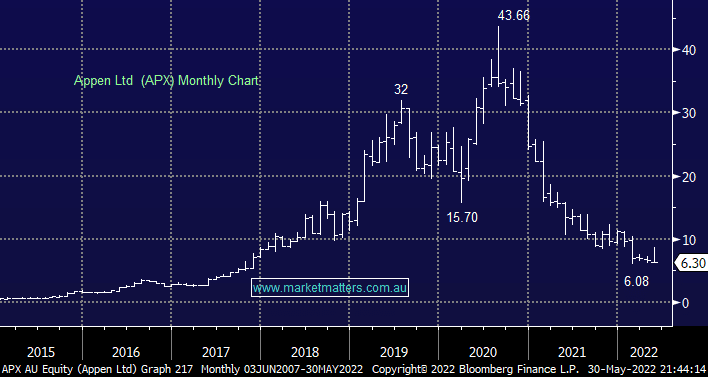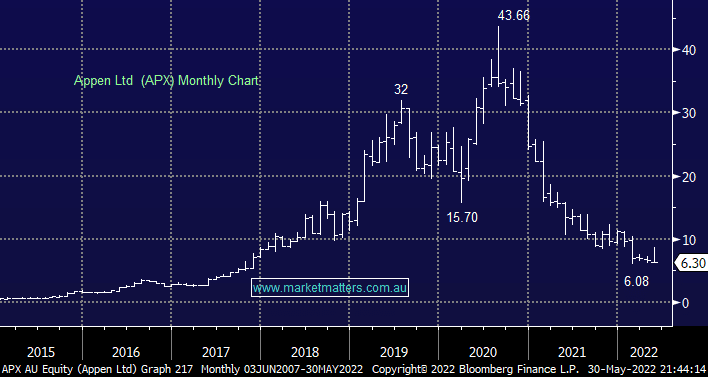 chart
Appen Ltd (APX)
Close
chart
Appen Ltd (APX)