IPL has been under pressure since the company announced plans to split its fertiliser and explosives businesses, news which managed to overshadow a record first-half earnings report. In a nutshell, IPL is looking to list the two divisions individually on the ASX:
The existing business would become Dyno Nobel Ltd and contain the explosives manufacturing business.
A new company would be formed called Incitec Pivot Fertilisers Ltd.
It appears the company didn't waste any money on branding companies thinking up new exciting company names but the board does believe the demerger will add value because each entity can focus on itself as the synergies between the businesses have faded away. There's lots of water to go under the bridge yet with the deal penciled in for H1 of 2023 however some brokers have argued the cost of the exercise offsets any value add.
We often say "don't fight the tape" and buying IPL after 70c pullbacks have paid dividends post COVID and following the latest 17% correction the value and risk/reward is again catching our attention.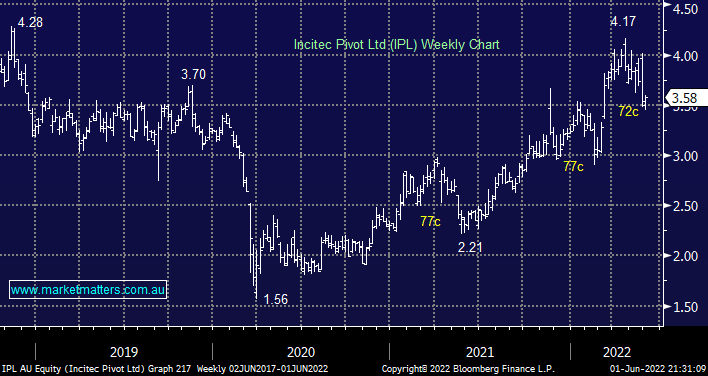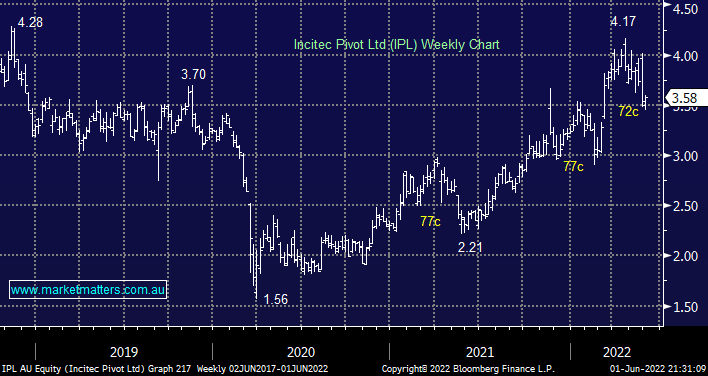 chart
Incitec Pivot Ltd (IPL)
Close
chart
Incitec Pivot Ltd (IPL)