Bendigo Bank launches $300m cap raise (ALU, QBE, BEN)

WHAT MATTERED TODAY
A fairly quite start to the week given the US is on holidays tonight, the ASX closing little changed after 4 straight sessions of gains. A number of stocks reported today which we cover below, however the calendar really ratchets up from tomorrow for the remainder of the week – Wednesday the busiest with more than 30 companies out with numbers.
At a sector level today, IT stocks back on top while Telstra weighed on the Communications sector following the news last week that TPG and Vodafone would merge, creating a strong No 3 players.
Reporting schedule available here: CLICK HERE
Overall, the ASX 200 fell -5pts / -0.07% today to close at 7125. Dow Futures are trading up +55pts/+0.24%
ASX 200 Chart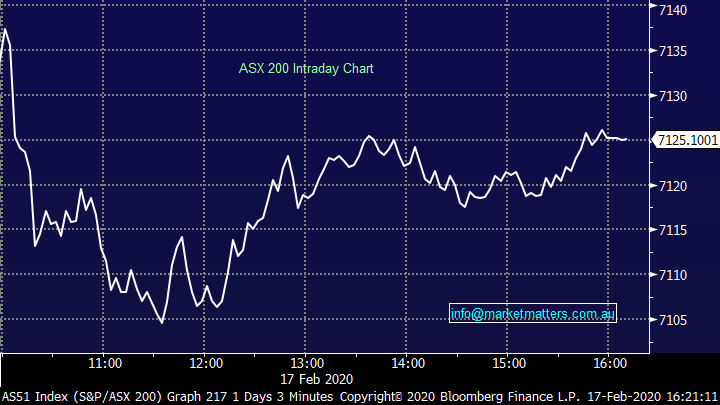 ASX 200 Chart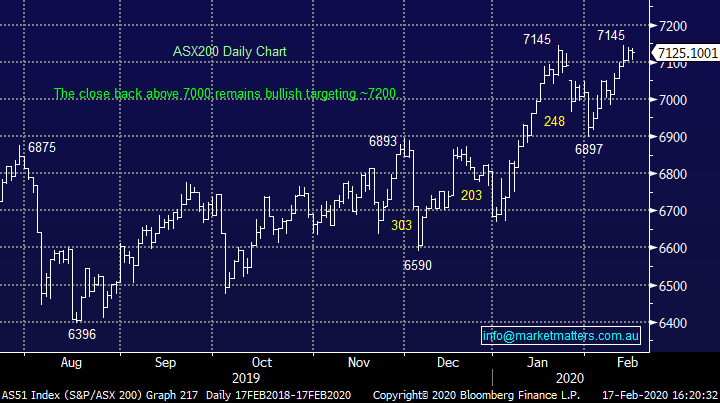 CATCHING MY EYE
Altium (ALU) +1.94%: Out with 1H20 earnings after market today, although they did go into a trading halt during the match which is strange. In any case, the guidance is really key in this business and what the market will focus on, and to that end they guided to full year revenue to be at the lower end of the previously guided range of US$205 - US$215, consensus currently sits at $US210m so it's a miss.
For the 1H they generated revenue of $US93.4, up 19% on 1H19 which is the slowest rate of top line growth since H117. They did sight the impact of the Coronavirus, and they do generally have a second half skew however the market may take this is a negative when trade kicks off tomorrow as they generally beat on the upside…
Altium (ALU) Chart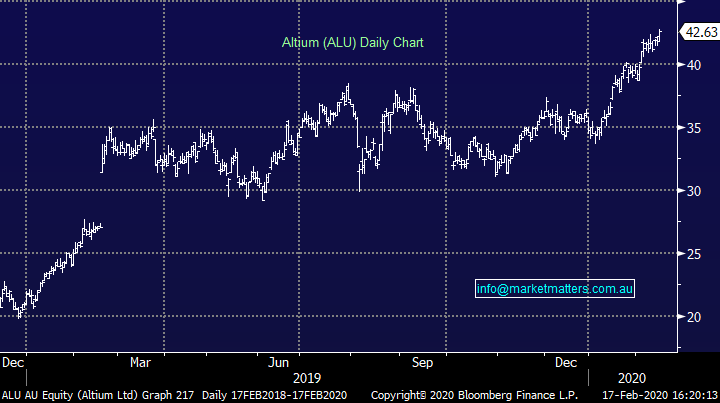 QBE Insurance (QBE) +4.31%: A rare reporting day in the sun for QBE today after they reported FY19 underlying NPAT of $733m and a final dividend of 27cps, taking the full year dividend to 52cps. The market was looking for NPAT nearer $700m with the better result underpinned by an improvement in their expense ratio, the company touting the benefits of their 3 year cost out program. Premium increases are working their way through the book with average rate increases of 6.3%, which is their biggest in a while. Overall, a decent result outshining both IAG & SUN in the process.
QBE Insurance (QBE) Chart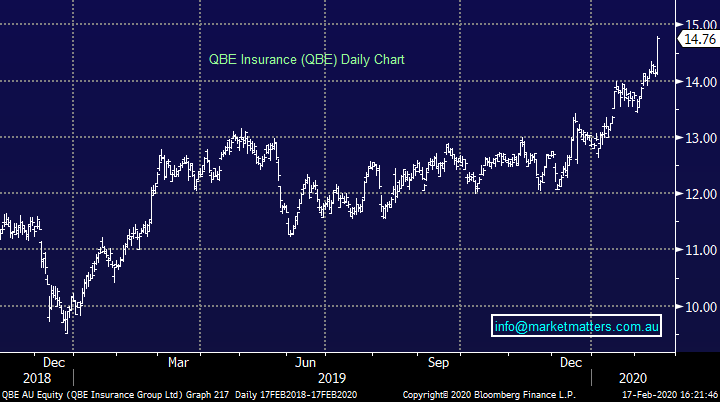 Bendigo Bank (BEN) Trading Halt: The regional out with 1H20 results this am and as widely expected, they also launched a $300m capital raise to boost their balance sheet. In terms of the result, they experienced 1% loan growth on the half, which included a 3% increase in residential lending offsetting a decline in commercial lending. Like the other banks, expenses are up, in BEN's case by 1% which was actually a good result although not included here was a big $61m software impairment, basically they are writing down old to then build new. This is one of the reasons why merging with another regional like a BOQ would make sense given the increasing demands for costly systems to remain competitive.
In terms of dividend for the half, it was cut to 31 cps down from 35cps and it probably won't increase for some time. In short, the outlook includes rising expenses and downward pressure on margins. The cap raise will see the stock lower from here.
Bendigo Bank (BEN) Chart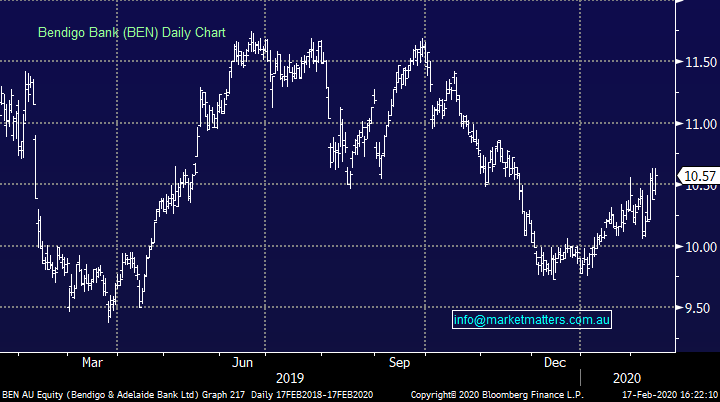 OUR CALLS
No trades today.
Major Movers Today – the NSR bid is a positive for ABP given their exposure to storage, creates a positive readthrough for storage valuations.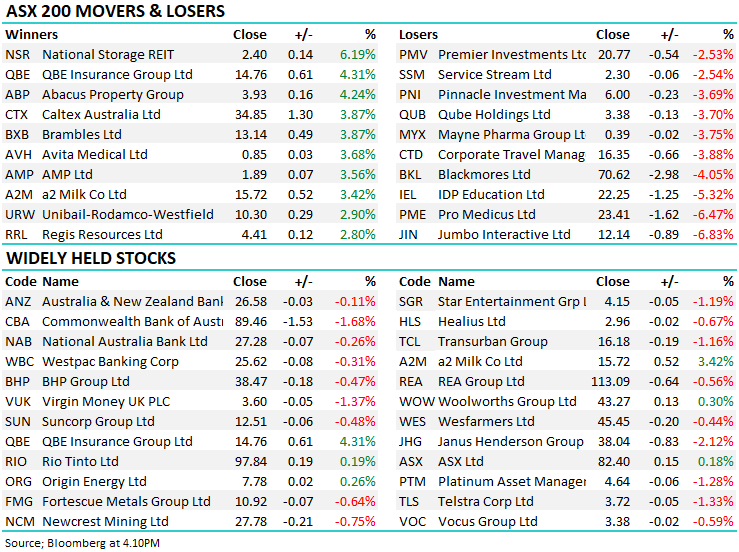 Have a great night
James & the Market Matters Team
Disclosure
Market Matters may hold stocks mentioned in this report. Subscribers can view a full list of holdings on the website by clicking here. Positions are updated each Friday, or after the session when positions are traded.
Disclaimer
All figures contained from sources believed to be accurate. All prices stated are based on the last close price at the time of writing unless otherwise noted. Market Matters does not make any representation of warranty as to the accuracy of the figures or prices and disclaims any liability resulting from any inaccuracy.
Reports and other documents published on this website and email ('Reports') are authored by Market Matters and the reports represent the views of Market Matters. The Market Matters Report is based on technical analysis of companies, commodities and the market in general. Technical analysis focuses on interpreting charts and other data to determine what the market sentiment about a particular financial product is, or will be. Unlike fundamental analysis, it does not involve a detailed review of the company's financial position.
The Reports contain general, as opposed to personal, advice. That means they are prepared for multiple distributions without consideration of your investment objectives, financial situation and needs ('Personal Circumstances'). Accordingly, any advice given is not a recommendation that a particular course of action is suitable for you and the advice is therefore not to be acted on as investment advice. You must assess whether or not any advice is appropriate for your Personal Circumstances before making any investment decisions. You can either make this assessment yourself, or if you require a personal recommendation, you can seek the assistance of a financial advisor. Market Matters or its author(s) accepts no responsibility for any losses or damages resulting from decisions made from or because of information within this publication. Investing and trading in financial products are always risky, so you should do your own research before buying or selling a financial product.
The Reports are published by Market Matters in good faith based on the facts known to it at the time of their preparation and do not purport to contain all relevant information with respect to the financial products to which they relate. Although the Reports are based on information obtained from sources believed to be reliable, Market Matters does not make any representation or warranty that they are accurate, complete or up to date and Market Matters accepts no obligation to correct or update the information or opinions in the Reports. Market Matters may publish content sourced from external content providers.
If you rely on a Report, you do so at your own risk. Past performance is not an indication of future performance. Any projections are estimates only and may not be realised in the future. Except to the extent that liability under any law cannot be excluded, Market Matters disclaims liability for all loss or damage arising as a result of any opinion, advice, recommendation, representation or information expressly or impliedly published in or in relation to this report notwithstanding any error or omission including negligence.