Like many investment managers we underestimated the problems Jack Ma would stir up with the Chinese regime and the sledgehammer like reaction from Xi Jinping & Co. although it's not the first time they've crucified stocks / sectors of the market with their policy decisions e.g. education was a classic case in point only a few months ago. At this stage we believe the "bad news" or in this case extremely bad is built into the price of BABA and we will consider averaging around the $US100 area while a bounce back towards $US160 is likely to see us adopt a "discretion is the better form of valour" attitude and exit the position.
The companies turnaround plans are interesting but not strategically innovative or convincing at this stage:
They are looking to increase its "VIP" customers aka Amazon  88VIP subscription.
Secondly, older customers who are getting more comfortable adopting e-commerce are part of the plan.
Thirdly they are attempting to streamline existing operations while investing into a number of new areas looking for future growth.
MM can see BABA US trading between $US100 and $US160 through 2022, and would be happy buyers around current levels
Add To Hit List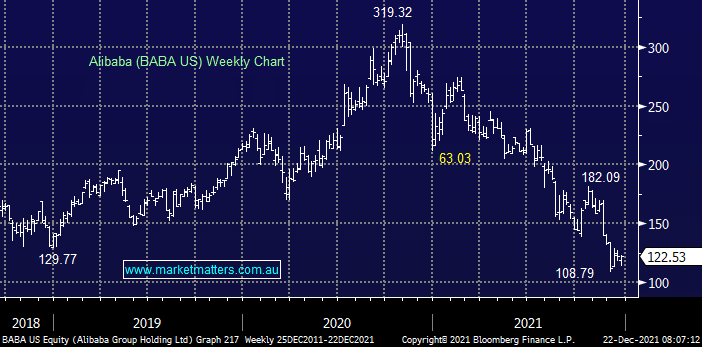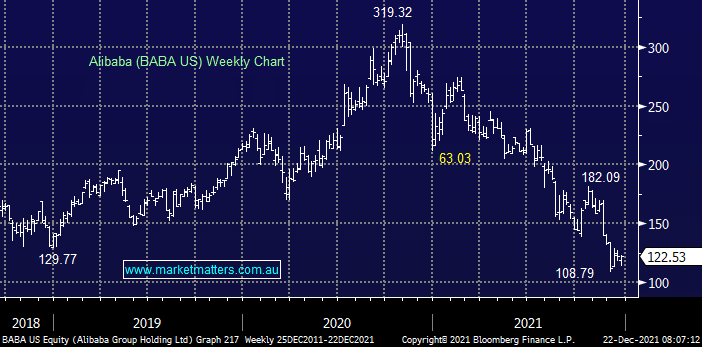 chart
Alibaba (BABA US)
Close
chart
Alibaba (BABA US)